ER Solutions
A Newsletter for the Oil & Gas Industry
September 2017
MEOR & Heavy Oil Deposits
A Success Waiting to Happen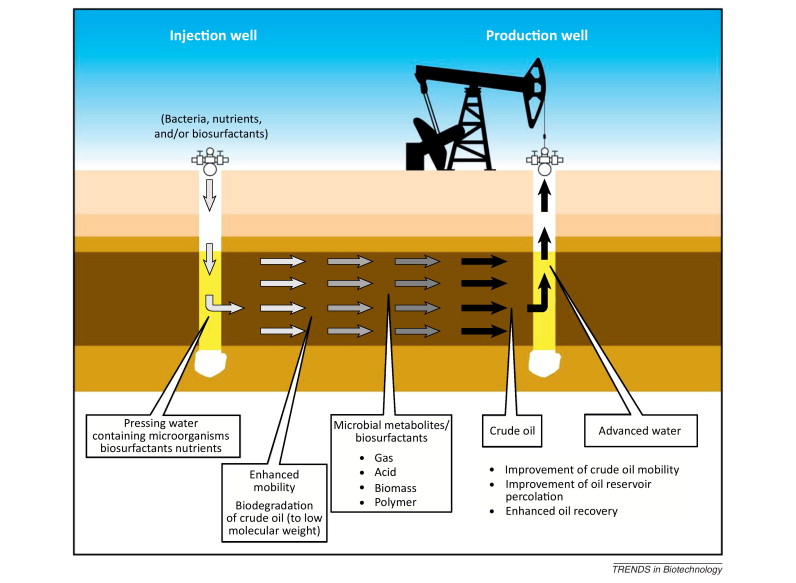 Having trouble getting financing for your next round of drilling 10,000 foot wells with a 5,000-foot horizontal component and 20 frac stages? Let's talk heavy oil. Heavy oils remain one of the truly unexploited sources of petroleum. Generally defined as having an API gravity less than 20°, they are usually highly viscous. Difficult to produce and handle on the surface, they remain an attractive resource to exploit because they are often found in shallow reservoirs (often less than 2000 feet deep) and have enormous reserves.
U.S. Geological Survey (USGS) has estimated the Orinoco Belt in Venezuela to have over 500 billion barrels. This is greater than the known reserves of Saudi Arabia. Several other reservoirs have over a billion barrels of reserves. Worldwide it is estimated that heavy oil and related types of oil (extra heavy crudes, bitumens, tar sands, etc.) have reserves twice as great as conventional oil.
Current techniques to recover this huge resource have usually incorporated some type of thermal treatment sometimes coupled with surfactant technology or gas injection. Microbial enhanced oil recovery (MEOR) has been used in several successful trials to increase both recovery of heavy oil and improve their viscosity and API gravity. Working by either producing gas, bio surfactants or direct transformation of the heavy crude, they have been found to significantly increase recovery rates and improve the quality of the oil. Usually injected in water floods (but producers have also been treated directly), these treatments have shown the potential of using microbes to free up these tantalizing close-to-the-surface reserves.
Running out of oil? Don't think so. Just inject environmentally friendly microbial culture products into your shallow heavy oil wells and watch the oil flow increase, and the quality improve. As always references available upon request. Because--that's the science behind the service.
We also treat paraffin, asphaltene, scale and corrosion problems. Stay tuned for more in upcoming newsletters.

Energy Remediation Solutions LLC Product Feature
ER-P200

ER- P200
ER- P200 for the treatment of paraffin and scale is a biological product designed and formulated for the treatment of paraffin deposition in oil wells, pipelines, tanks and flowlines.
Natural, non-pathogenic, non-engineered biological product that meets EPA requirements for release into the environment
Special clothing or equipment are not required for handling
Increase Production
Reduce Costs
Proven Performance
ER-P200can be shipped in three sizes:
5 gallon containers (45 lbs)
55 gallon drums(495lbs)
300 gallon totes (2,553lbs)

"Where oil is first found is in the minds of men" Wallace Pratt

Energy Remediation Solutions is safe for the environment product manufacturer created by oil and gas operators dedicated to guaranteeing economic, highly effective solutions to O&G production problems in the world's oil industry. ERS manufactures all of its products for either upstream, midstream, or downstream applications in the oil and gas industry for oilfield equipment/facilities or environmental remediation. ERS provides products to multiple distributors including environmental companies, chemical companies, and directly to oil and gas operating companies.

Energy Remediation Solutions is the world Expert in Microbial Oil & Gas Technology… in Today's
Market…Boosting Margins is Vital

For more information about our products if you are interested in being a distributor, contact our This email address is being protected from spambots. You need JavaScript enabled to view it. or call 361-730-9984.
4833 Saratoga Blvd. #105, Corpus Christi, TX 78413.