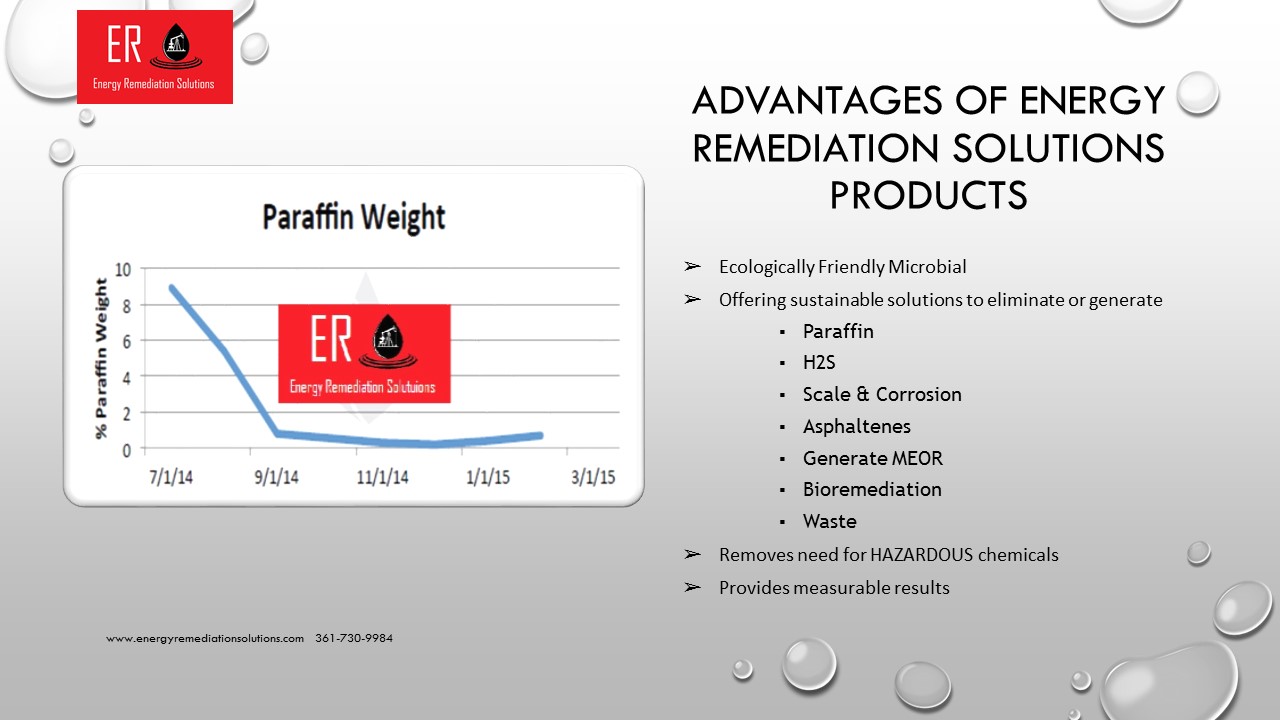 Oil Field Products for : MEOR, H2S, Paraffin, Scale, Corrosion, and Asphaltenes

Products like the ERS-P200™ line were first introduced in the 1980s. Successful in controlling paraffin, scale and corrosion Other ERS products also treat emulsion, basic sediment and water (BS &W), hydrogen sulfide (H2S), and sulfate-reducing bacteria (SRBs). Since, ERS has advanced into the field of microbial enhanced oil recovery (MEOR). ERS products have been used in many types of reservoirs with differing characteristics such as carbonate and sandstone rock, and water driven, solution gas driven, or reservoirs under secondary recovery.
ERS™ products have contributed to the successful operation of thousands of oil wells worldwide, reducing operating costs, improving oil production, and increasing profits.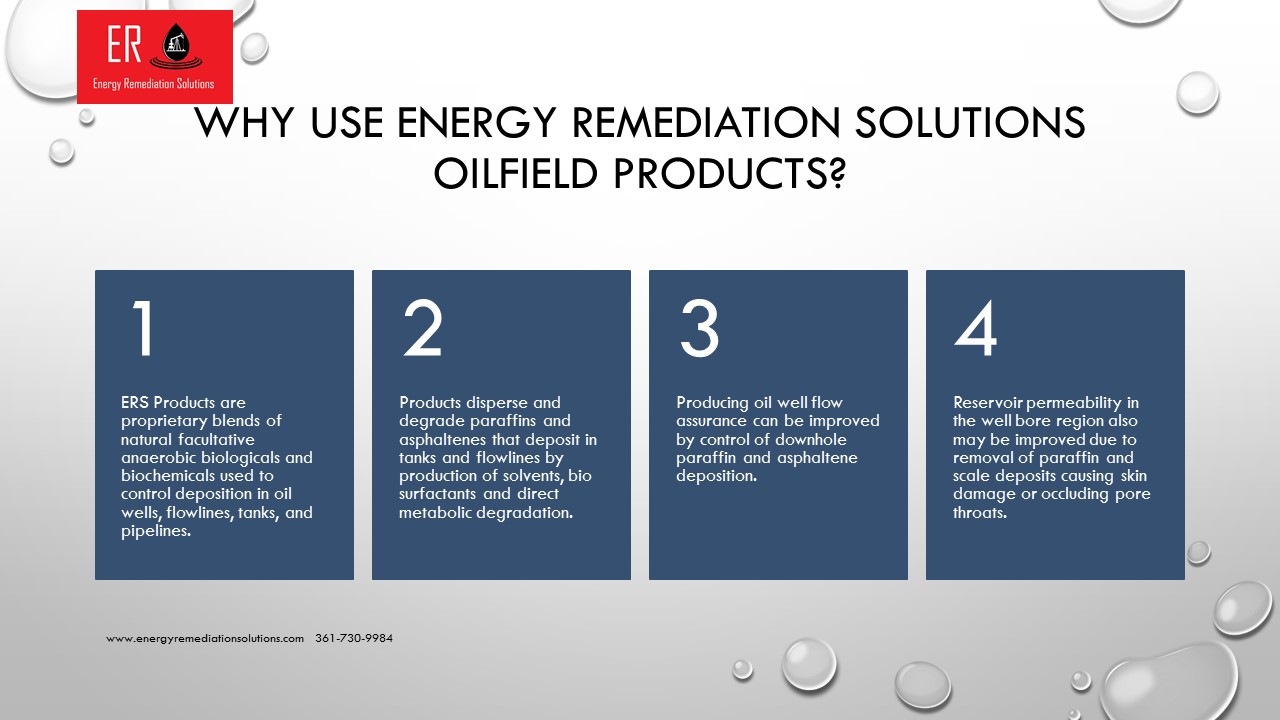 Paraffin Control
Conventional methods for treating paraffin can be costly, damaging and dangerous. Hot oiling results in lost production time, is potentially explosive, and may damage the formation; chemical paraffin solvents and dispersants are toxic; and mechanical removal of paraffin requires production downtime and is limited to accessible areas. Each of the above methods is only partially effective. ER-P200 microbes directly impacts oil production and equipment repairs or replacement-all of which can lower lease operating costs.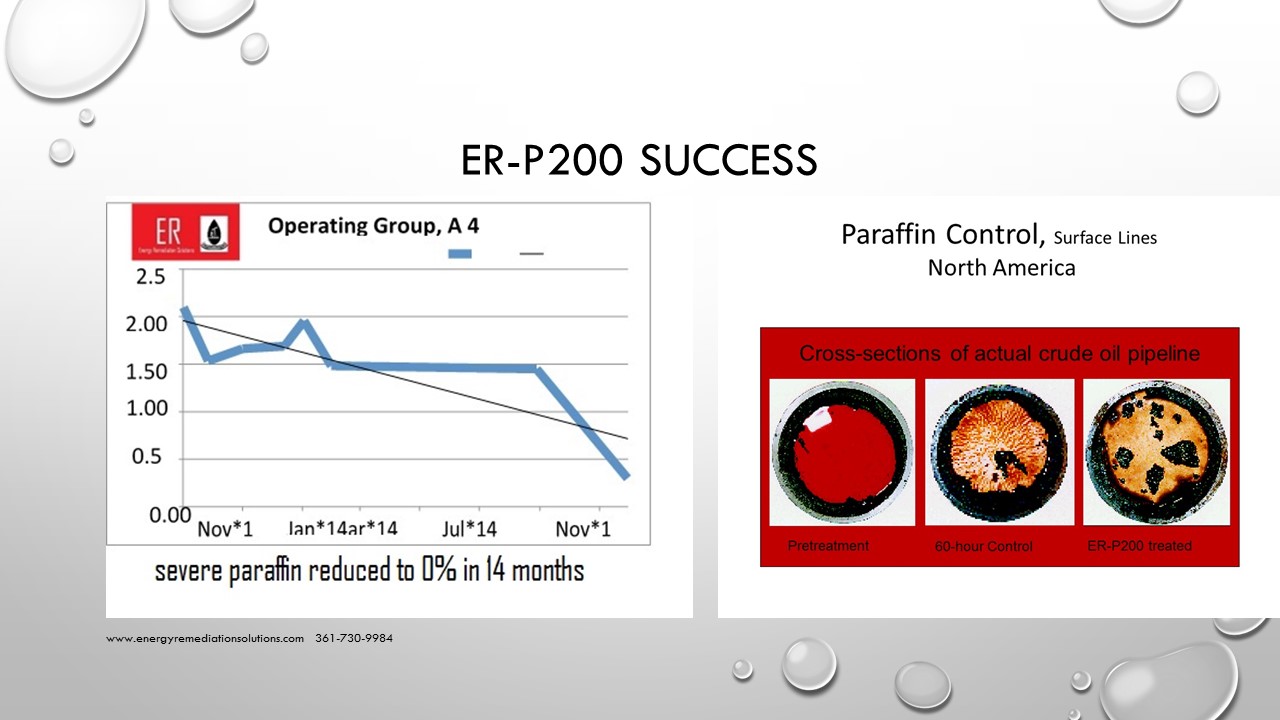 Corrosion, Scale, H2S and SRBs
ERS™ microbial metabolism produces several substances that have chelating, anti-precipitation, filming, or biosurfactants activities. The filming activity of ERS products fights corrosion by coating metallic surfaces.
ERS™ products will not cause or aggravate problems related to sulfate reducing bacteria (SRBs). Furthermore, certain products in the ERS line are specifically directed at wells where SRBs pose a serious problem.
Microbial Enhanced Oil Recovery (MEOR)/Increased Production
ERS products not only improve operations and reduce costs; they can also increase oil production from 10% to 50% and even more in most cases. ERS treatments can enhance oil field recovery, improve recovery efficiency, and increase recoverable reserves by introducing the microorganisms directly into the formation. Paraffin deposits are removed from the formation itself, thus allowing oil to move to the well bore.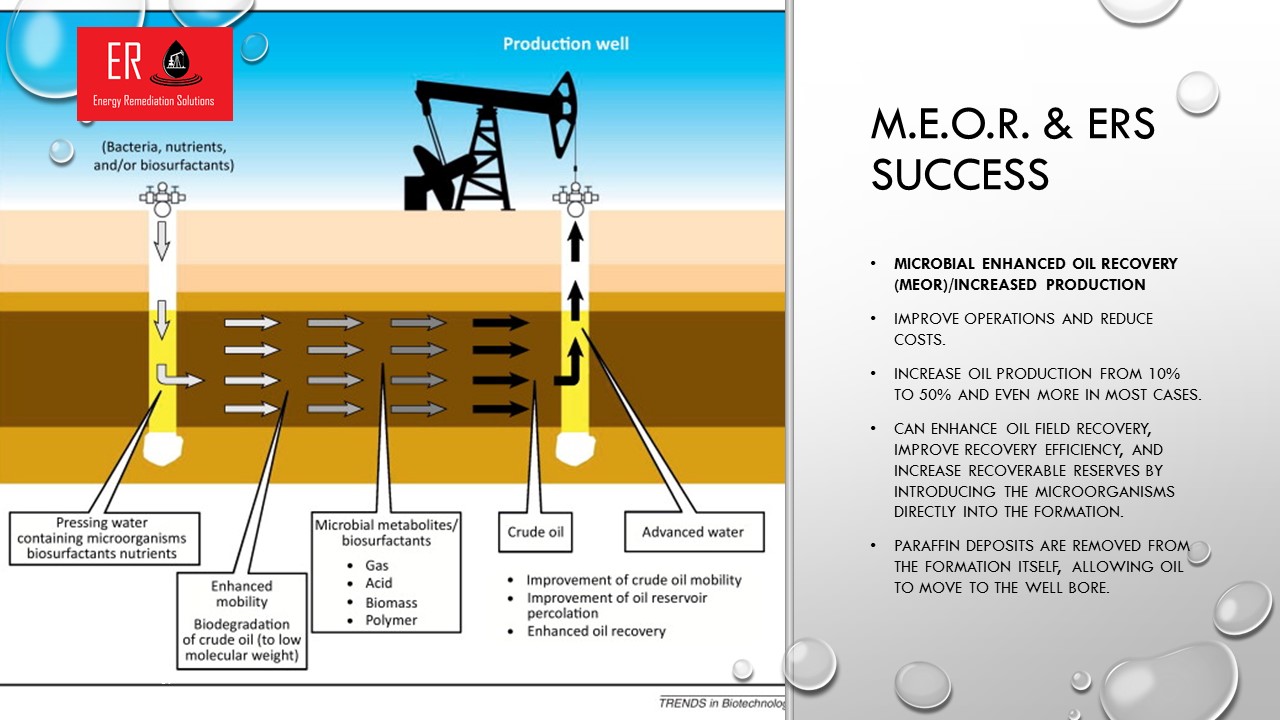 ERS Microbes
ERS products are comprised of 100% natural (not genetically engineered), non-pathogenic, live bacteria/microbes that have been specifically selected and adapted for petroleum production issues. The ERS process is based on scientifically established principles by our distinguished scientists. ERS's microorganisms use paraffin in their metabolic activity. In the digestion process, ERS microbes control paraffin accumulations and produce by-products that act as surfactants and paraffin solvents. The principle strains in ERS are facultative anaerobic bacteria, and are able to work in the presence or absence of oxygen.
Emulsion Breaking, Pipelines
ERS products have been very successful in improving oil-water breakout and in solubilizing precipitates. Costs are reduced for conventional heat treatments, chemicals, centrifuges, and ultra-filtration.
Field Applications
Recommendation can be made for specific dosages of products or blends. ERS products are usually introduced into the well-bore annulus by batch treatment. Periodic treatment is required to maintain the microbe colony.
Bioremediation is the best way to handle many hazardous waste issues. Using natural microorganisms and select nutrients to degrade pollutants such as gasoline, kerosene, military fuels, diesel, fuel and crude oils is a proven technology with a long successful track record. Bioremediation with microbial culture products is one of most economical and best ways to achieve degradation levels to bring hazardous waste sites into compliance. From a small crude spill at a stripper well to a leaking underground storage tank at a gas station or even a spill in a refinery tank farm, bioremediation is the tool to use.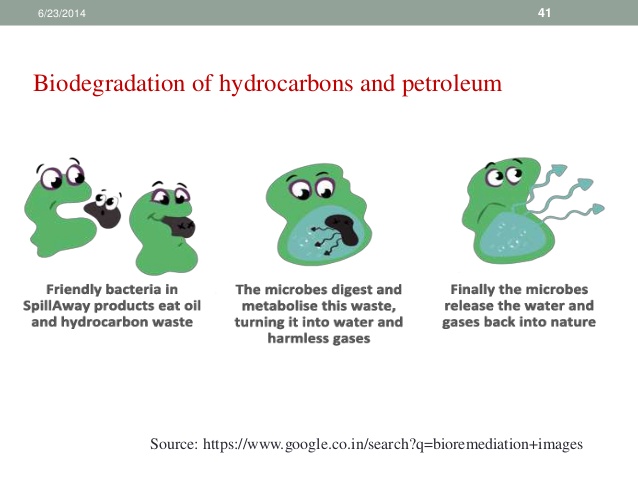 ER Solutions ERB-100 offers a broad spectrum blend of naturally occurring microorganisms targeted at all these hydrocarbon problems. Derived from land and water sources as most of our products are, it is safe to use and easy to apply. The product is compatible with a variety of other products used in bioremediation. Often significant reductions can be seen in as little as a month.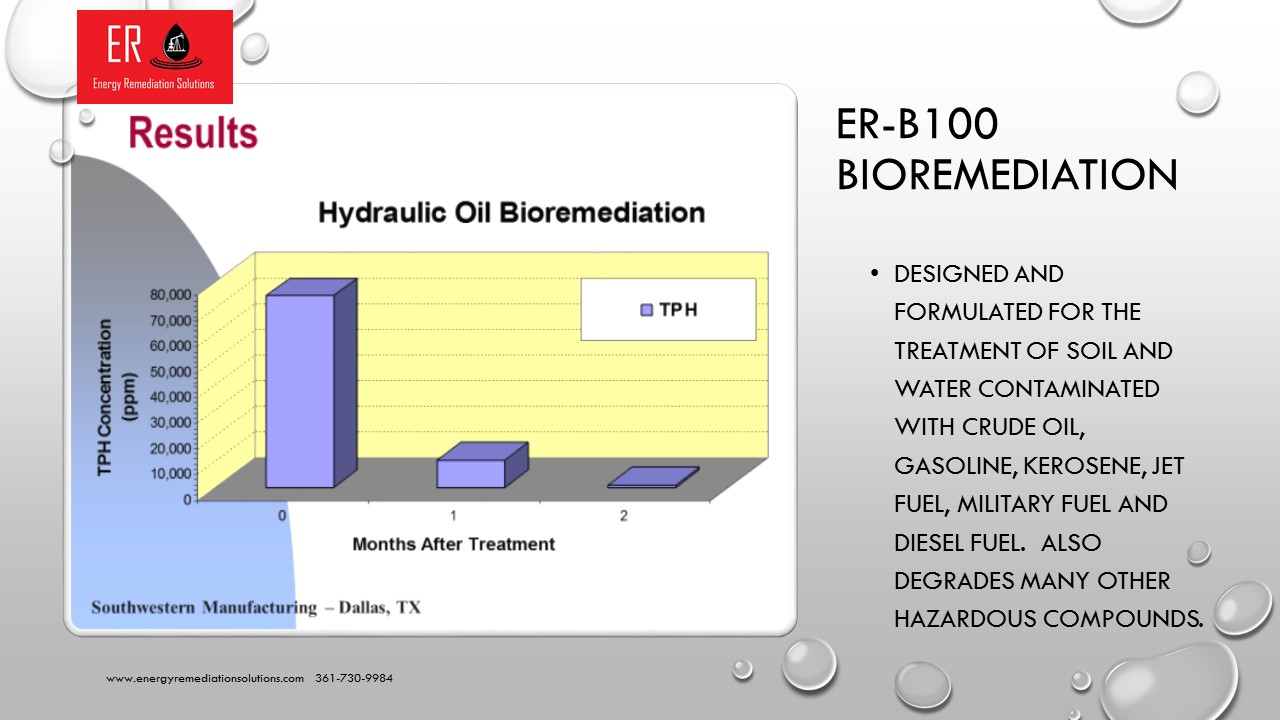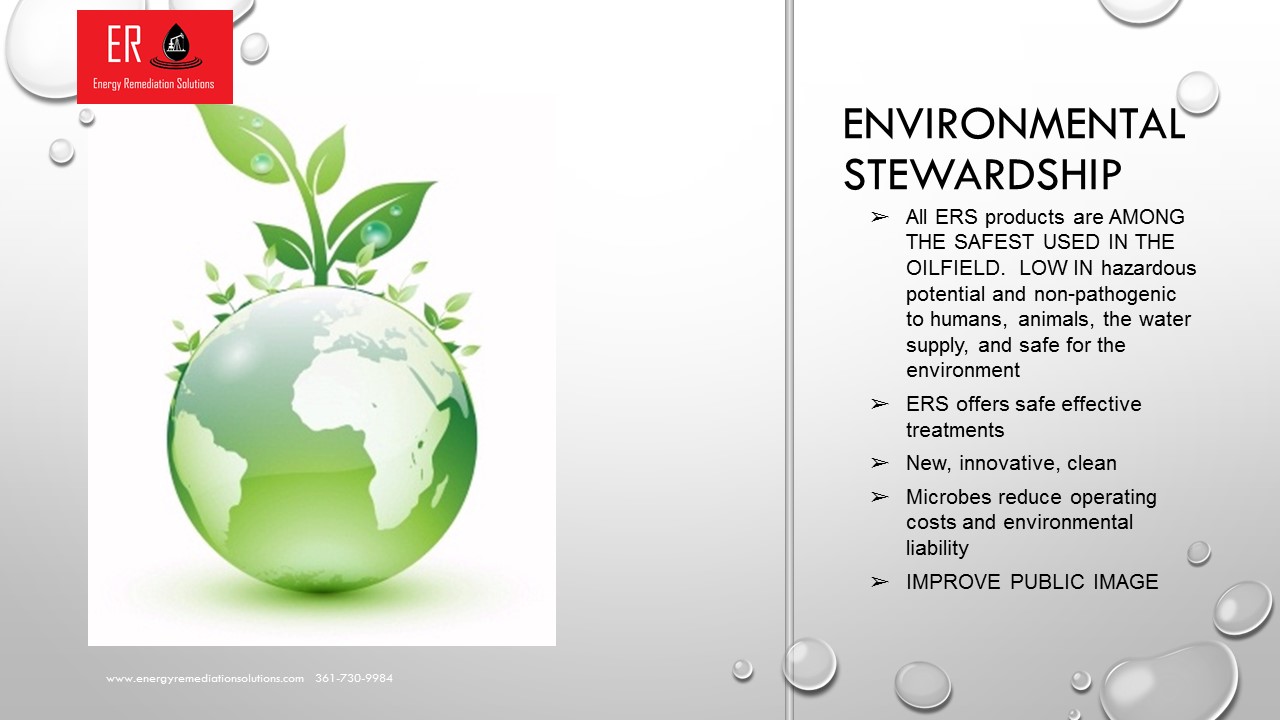 For more information contact This email address is being protected from spambots. You need JavaScript enabled to view it.
Corporate Office: (361)-730-9984